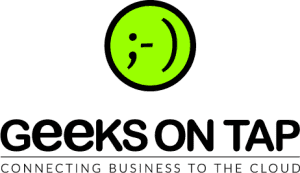 Terms and Conditions Effective  1/1/2019
We thank you for your business.
Below are the terms and conditions for our quotations. Please feel free to contact us to discuss these terms at anytime.
Recitals
A. These are the terms and conditions under which Geeks On Tap  Pty Ltd 99 160 583 504 will provide to the Client certain Products and professional services.  
B. Geeks on Tap is engaged in the business of providing Information Technology services and consulting and are specialist "Cloud Service Providers" (the "Business")
C. Geeks on Tap is an independent, non exclusive, authorised reseller of services in Australia to end use customers. Geeks on Tap is not a representative or agent of Google. No representation made by Geeks on Tap, either express or implied, may constitute a representation of Google.
D. Subject to the above, the role of Google is a data controller. The role of Geeks on Tap is as a reseller. Geeks on Tap is obligated and undertakes to comply with Google Apps API Terms, the Privacy Policy and Privacy Notice of Google.
E. Geeks on Tap is bound to provide services in accordance with the service level agreement of Google. The Client is only entitled to any remedies specified in the service level agreement and Google will not provide any remedy other than those contained in the service level agreement.
F. The Services may include, but are not limited to, Business Consulting, Technology Consulting, project management, online marketing programs assistance, 1st level IT support, Google Apps configuration, network performance optimisation, problem determination assistance, and other on-site and remote professional support services.
G. For each Service that Geeks On Tap agrees to perform, a Scope of Work ("SOW") will be implied from discussion or within service proposals, support proposals and/or quotations, and will set at minimum: (i) services supplied by Geeks on Tap (ii) the description of the work, (iii) the rate card for services and a payment schedule.
H. Client will be deemed to have accepted the Terms and Conditions by;
    (i) submitting an online activation form; or
    (ii) sending an authorising email or purchase order; or
    (iii) signing a Geeks on Tap Proposal, service agreements; or
    (iv) providing quotations to Geeks On Tap.
Geeks on Tap's acceptance of Client's order is conditional upon Client's acceptance of the Terms and Conditions, without addition or modification. In the event that Client's purchase order is deemed to be an offer, Geeks On Tap acknowledgement or performance of the purchase order is conditioned upon Client's acceptance of the Terms and Conditions, without or modification and the Client's acceptance of delivery without objection constitutes acceptance of the Terms and Conditions, without addition or modification.
I. Geeks on Tap may accept or reject the purchase order for any reason. Geeks on Tap will not be bound by any terms or conditions set forth on the Client's purchase orders.
1. Interpretation of this Agreement
"AUP"  means the acceptable use policy for the Services available at https://geeksontap.com.my/policies-and-conditions (or such URL as Geeks on Tap may provide) and which may be updated from time to time, and which is incorporated herein by this reference.
"Acceptable Quality" as referred to in this Agreement has the same meaning referred to in the Australian Consumer Law 2010 ('ACL')
"Activation Services" means: (a) creation of the Customer Domain; (b) verifying Customer's ownership of the domain; (c) provisioning End User Accounts to the Customer Domain; and (d) activating Customer Accounts for the Service.
"Agreement" means this written agreement, or any online services agreement or Terms and Conditions between Geeks on Tap pursuant to which Products or Services are provided to the Client.  
"Brand Features" means the trade names, trademarks, service marks, logos, domain names, and other distinctive brand features of each party to this Agreement.
"Confidential Information" means information disclosed by (or on behalf of) one party to the other party under this Agreement, or during the course of their interactions, that is marked confidential or, by its nature, content or the circumstances in which it is disclosed, might reasonably be supposed to be confidential. It does not include information that becomes public through no fault of the recipient, was independently developed by the recipient, or that was lawfully given to the recipient by a third party.
"Client" refers to the entity to whom Geeks on Tap provides Services.
"Client Domain Names" means the domain name(s) owned by the Client as specified by the Client during the sign up process with Geeks on Tap.
"Default Payment" means the non-payment of any invoice, or any part thereof, in accordance with the terms specified on that invoice or otherwise in this Agreement issued by Geeks on Tap to Client, regardless of whether the invoice is issued pursuant to this Agreement or otherwise.
"Deployment Services" means the technical support services provided by Geeks on Tap to Clients to facilitate the Client's End Users' successful use of the Services as proposed by the Client.
"End Users" mean the Client's end users who use the Services.
"Licence Agreement" means the Agreement between Google and Geeks on tap, wherein Geeks on Tap facilities the provision of Services for use by the Client.
"Group Company" means in relation to each of the parties: (a) any parent company of that party; and (b) any corporate body of which that party directly or indirectly has control or which is directly or indirectly controlled by the same person or group of persons as that party.
"Google TOS" means the online terms of service presented by Google to each Client upon that Client's first log in to the Service.
"Hosting Service Level Agreement" means the online terms of service for domain and hosting services available at www.geeksontap.com.au
"Intellectual Property Rights" means all copyright, moral rights, patent rights, trade marks, design right, rights in or relating to databases, rights in or relating to confidential information, rights in relation to domain names, and any other intellectual property rights (registered or unregistered) throughout the world.
"Major Failure" as referred to in the warranties to this Agreement has the same meaning referred to in the ACL and includes a situation when a Product cannot be repaired or it is uneconomic for Geeks on Tap, at its discretion, to repair a Product during that Warranty Period.
"Parties" means Geeks on Tap and End User or Client, whichever applies.
"Product(s)" means any product provided to the End User or the Client by Geeks on Tap or its affiliates in accordance with, or incidental to, the performance of this Agreement or the Services provided.
"Services" means collectively and dependent upon context: (a) the professional Products and services provided by Geeks on Tap to the Client or any of their employees or officers pursuant to this Agreement, and (b) the Google hosted services currently known as "Google Apps for Business" (as may be renamed from time to time) provided by Google for use by the Client under this Agreement.  c) domain, webhosting and virtual server services for use by the Client under this Agreement. Further, the plural and singular may be used interchangeably throughout the Agreement.
"SOW" means 'Scope of Works', being this Agreement and other conduct amounting to an agreement as to the Products and Services to be provided by Geeks on Tap to Client as set out above.
2. Personnel / Services to be Performed / Relationship of Parties.
2.1        Personnel. Geeks on Tap will provide to Client personnel suitably qualified and experienced and proficient with the applicable Products in use by Client to the Services. Geeks on Tap may, at its option, nominate its affiliate personnel or a third party contractor to provide Services, or portions thereof, to Client on behalf of Geeks On Tap.
2.2     Relationship of the parties.  The relationship between Geeks On Tap and Client is that of independent contractors.
2.3    Geeks on Tap will provide services and treat client's personal information in accordance with the Google Privacy Policy and Privacy Notice.
2.4    Geeks on Tap will notify clients of the ways in which personal information will be processed and use personal information within the consent of the client.
2.5  Geeks on Tap may provide Google copies of Customer Agreements between Geeks on Tap and the Client upon Google's request. Google's receipt of Customer Agreements may not be considered, in any way, acceptance of its terms.
2.6 Client understands that the Services are standard hosted services provided by Google and other vendors, and that Google and other vendors may make changes to the services or particulars components of those services, at no additional cost to Client.
3. Orders, work hours and schedules.
3.1  Purchase Orders.  Client will submit a purchase order, or sign an Geeks On Tap Proposal or Quotation for the Services as specified in the SOW concurrently with the execution of such SOW
3.2  Work Schedule.  Unless otherwise specified in the SOW, Geeks On Tap will perform the Services under this Agreement based on a schedule mutually agreed upon between Geeks On Tap and Client, during Geeks On Tap regular working hours, 8:30 a.m. to 5 p.m. Monday through Friday, local time at the site.  If Client requests that Services be performed outside the work schedule, additional charges (such as overtime) may be incurred. The performance of Services outside of normal working hours shall be subject to the availability of Geeks on Tap service personnel.
3.3  Variations.  If Client or their staff or representative requests that Services be performed outside the SOW in the proposal or quotation, additional charges (variations) will be incurred.  A verbal or email request by the client, their staff or representative for work outside of the SOW will be considered a binding variation on the original proposal.
4. Obligations of Client
4.1     Client Assistance.  Unless otherwise specified in the SOW, Client will provide to Geeks On Tap, and/or Geeks On Tap 's authorised representatives, in a timely manner, all assistance and information and materials which Geeks On Tap  may reasonably request for the performance of the Services. Geeks On Tap will not be liable for delays in performance caused by any delay or failure to provide such assistance to Geeks On Tap. Client shall bear the expenses of such co-operation.
4.2    Client Technical Contact.  Unless otherwise specified in the SOW, Client shall nominate an authorised representative to serve as the 'primary technical contact' to work with Geeks On Tap while performing services specified in the SOW.  The Client representative shall meet Geeks On Tap at the work site, or at agreed upon locations, as deemed necessary by either Client or Geeks On Tap to ensure the orderly progress and timely completion of the Services.
4.3    Access to Client Facilities and Equipment.  The Client agrees to provide Geeks On Tap with access to the Client facilities and equipment sufficient to enable Geeks On Tap to perform its obligations under this Agreement. Any Client-owned equipment or supplies made available to Geeks On Tap for the purposes of performing Services, may be used by Geeks On Tap or its authorised representative without charge.  Geeks On Tap may charge the Client a service fee if Geeks On Tap responds to Client's request to be on-site and Client fails to appear at the Geeks On Tap at the nominated time and place.
4.4  60 day obligation.  The Client is obliged to not delay and allow Geeks on Tap to install and complete the SOW within sixty days of the date of the works being ordered, or of the signing of a purchase agreement.  The client acknowledges that Geeks On Tap has allocated resources to the project in good faith and will agree to pay the project cost in full if delays caused by the client extend beyond sixty days unless otherwise agreed in writing between the parties.
4.5    The Client will not resell, distribute, lease or allow another third party to use the Services.
4.6  The Client will ensure Services provided are for use within Australia. Any use of Services outside this area is only permitted with the written consent of Geeks on Tap.
4.7   The Client will ensure they view the Google TOS and accept its terms before becoming entitled to use Services.
4.8  The Client shall not give any representation or warranty binding on Geeks on Tap in relation to the Services or any other goods or services provided by Geeks on Tap.
4.9  The Client will ensure the compliance of any subcontractors (except Geeks on Tap), officers, directors and employees with the terms of this Agreement and with the Google TOS and any policies or terms applicable to selling of the Services, as Geeks on Tap may modify from time to time, and is responsible for any breach of this Agreement by any of these persons.
4.10     Confidentiality. If either party to this Agreement is in receipt of any Confidential Information, they will not disclose that Confidential Information, except to Group Companies, employees and/or professional advisors who need to know it and who have made an undertaking in writing, or are themselves otherwise bound, to keep such information confidential. The recipient will ensure that those people and entities use the Confidential Information only for the purpose of exercising rights and fulfilling obligations under this Agreement, while using reasonable care to protect it. The recipient may, however, disclose the Confidential Information when required by law after giving reasonable notice to the disclosing party, such notice being deemed reasonable based on whether the discloser has had sufficient time to seek confidential treatment, a protective or other similar remedies or relief prior to disclosure.  
5. Payment Terms
5.1    General.  Charges and the payment schedule for the Services will be as described in the Proposal.  The Project Fee shall be inclusive of all costs and expenses incurred by Geeks On Tap in completing the Services. Invoice shall be due and payable either COD or within Seven (7) days from the date of nvoice ('the due date').
5.2     Taxes. Charges stated are exclusive of all federal, state, municipal or other government excise, sales, use, occupational or like taxes now in force or enacted in the future.  Except for taxes based on Geeks On Tap 's income, such additional charges, if any, shall be paid by Client.
5.3    Geeks on Tap may charge the Client for the provision of any services by Google within the scope of contractual or legal obligations between Geeks on Tap and the Client. Payment of same is subject to general payment terms.
5.4        Default Payments.  Geeks on Tap may suspend its performance or terminate this Agreement, without limiting any other rights it may have, if Client is in Default Payment of any undisputed invoice from Geeks on Tap for a period in excess of thirty (30) days.  Geeks on Tap reserves the right to charge Client interest on any Default Payment balance ('Default Interest'). Default Interest is computed at a rate of 2% per annum above the base rate of Barclays Bank PLC from time to time, and shall be payable from due date until the date of payment of the Default Payment. Geeks on Tap may recover from Client all costs incurred by them in attempting to recover any Default Payment costs, including legal costs, debt collection costs and administrative charges
5.5    All payments due are in the currency indicated on the invoice, but if not otherwise indicated, are due in Australian dollars. Client must pay to Geeks on Tap all amounts properly due, regardless of whether Client collects amounts due from its Customers.
5.6   Geeks on Tap is entitled to suspend services for failure to pay Geeks on Tap for Services.
5.7    Title to any Product supplied does not pass to Client until full payment has been received by Geeks on Tap and as your irrevocably appointed agent for the purposes of this clause, enter any premises where we reasonably believe Goods are stored and remove them.  We will not be responsible for, and you indemnify us against, any damage caused or loss or liability incurred in entering the premises or removing goods. We may resell the goods and apply the proceeds to reduce the amount outstanding.
5.8     Billing Inaccuracies. If the parties determine that certain billing inaccuracies are attributable to Geeks on Tap, Geeks on Tap will not issue a corrected invoice, but will instead issue a credit memo specifying the incorrect amount in the affected invoice. If the disputed invoice has not yet been paid, Geeks on Tap will apply the credit memo amount to the disputed invoice and Client will be responsible for paying the resulting net balance due on that invoice.
6. Personal Properties Securities Register
6.1         PPSA. The parties acknowledge that these Terms and Conditions constitute a security agreement for the purpose of the Personal Properties Securities Act 2009 (Cth) ('PPSA'). A security interest is taken in all Products previously supplied by Geeks on Tap to the Client (if any) and all Products that may be supplied in the future by Geeks on Tap to the Client securing the performance by purchaser of obligations under these Terms and Conditions, for so long as any of the monies owing by the Client to Geeks on Tap in respect of the Goods or for so long as the Goods are consigned, rented or leased. The Client must further ensure that no security interest (within the meaning of the PPSA) is created, exists or subsists over the Products provided (including any replacement part or other item that is incorporated in any Product) in the Client's possession or control prior to the control of the Goods passing to the purchaser other than a security interest arising under this Agreement.
6.2         PPS Register. The Client must assist to complete the registration on the PPS Register of any financing statement in respect of the Products and will do all things and provide all information necessary to enable Geeks on Tap to perfect its security interests in the Products and complete any financing change statement as defined in the PPSA.
6.3       Waiver. To the extent permitted by law, the Client hereby waives any rights the Client may have to receive notices under Sections 121(4), 130, 132(4) and 135 of the PPSA, and will take all steps to reinstate a security agreement following Termination. Further, the purchaser agrees that it irrevocably waives any rights it may have to receive a verification statement (as defined in the PPSA).
6.4     The terms and/or phrases used in this clause are to be interpreted in accordance with the definitions provided for such terms and/or phrases as used in the PPSA.  
7. Term/Termination
7.1   Term. The Term of this Agreement begins upon signature of both parties and shall continue for whichever is the latter of (a) one (1) year from the Effective Date as specified above or (b) upon expiration of any SOW ordered prior to the expiration date, unless terminated earlier pursuant to this Agreement. The Agreement may be extended for additional one (1) year terms thereafter, by mutual written agreement.
7.2  Termination for Convenience. Either party may terminate this Agreement, without cause, on 60 days' prior written notice.
7.3      Termination for Cause. Either party may terminate this Agreement for cause if the other party: (a) fails to perform any material term or condition of this Agreement, and does not remedy the failure within thirty (30) days after receipt of written notice of such default or where such breach is incapable of remedy, or (b) becomes insolvent, files or has filed against it a petition under applicable bankruptcy or insolvency laws which is not dismissed within ninety (90) days, goes into administration, receivership or liquidation, or makes any arrangements for the benefit of its creditors or takes any similar actions, or (c) or otherwise discontinues carrying on business.
7.4       Termination for Suspension. If a suspension is effected in accordance with clause 5.6 and the suspension continues for a period longer than seven days, Geeks on Tap may terminate this Agreement and such termination shall be effective immediately, and shall not be subject to the requirements of clause 5.2 and 5.3 above.  
7.5  Survival.  The termination or expiration of this Agreement shall in no way relieve either party from its obligations to pay the other party any sums accrued hereunder prior to and up to such termination or expiration or affect the provisions of Section 9.0, "Limitation of Liability," below. The provisions of Section 10.0, "General" and Section 6.0 "Proprietary Rights" set forth below, shall survive for a period of five (5) years from the termination or expiration of this Agreement.  All warranties and confidentiality provisions set forth herein shall remain in effect for their stated duration.
7.6    Geeks on Tap may place Client on suspension and/or credit hold if Client is in breach of clause 4.4 above, or if Geeks on Tap determines in its reasonable commercial judgment that the Client's credit-worthiness is in question ('the suspension action'). If Client is suspended due to Geeks on Tap so determining, Geeks on Tap may, in its sole discretion, determine that Client is an unacceptable credit risk, in which case Geeks on Tap will promptly inform Client of same, and may decide to terminate this Agreement.
7.7      Effect of Termination. Upon termination or expiry of this Agreement for any reason: (a) all rights and licences granted by one party to the other will immediately cease; (b) if requested, each party will promptly return to the other party, or destroy and certify the destruction of, all of the other party's Confidential Information; (c) all payments owed to Geeks on Tap become immediately due and payable; and (d) Client will inform any affected stakeholder that its relationship with Geeks on Tap is has expired or terminated, as applicable.
8. Proprietary Rights
8.1        If any computer hardware or computer software Product is provided hereunder it shall be provided to Client subject to Geeks On Tap's (or any third party supplier's) standard terms and conditions for the sale or licence of such Product.
8.2        Intellectual Property Rights. Except as expressly stated otherwise in this Agreement, neither party will acquire any rights, title or interest, in any of the Intellectual Property Rights belonging to the other party.
9. Warranty and Returns
9.1        Warranty. Geeks on Tap warrants to make good by repair or, at Geeks on Tap's option, replace defective Products not of acceptable quality which under proper use and in accordance with any instructions issued by Geeks on Tap provided to the Client, or as a result of faulty design, material or workmanship by Geeks on Tap ('the defect') appear in Products manufactured by Geeks on Tap within twelve (12) months ('the warranty period') from the date of purchase, provided: (a) The defect/s are not due to normal wear and tear; (b) The defect/s are not a result of improper installation of the Goods or connected to a irregular power source; (c) The defect is not the result of negligent damage to the Goods; (d) The defect is not the result of accident; (e) The defect is not the result of insect or vermin infestation; (f) The defects are not the result of modification or alteration to the Goods. ('the warranty')  
9.2        With the exception of the warranties specified in documents delivered with the service deliverables, there are no other express or implied warranties related to any Products that may be provided under this agreement.
9.3        Client may return Products purchased from Geeks On Tap and receive a credit of the paid price, subject to the following: (a) the Product is returned to Geeks On Tap within seven (7) days of the invoice date; (b) the Product is new and Unused; (c) the Product is in its original package, which has not been damaged or altered; and (d) Geeks On Tap determines, in its sole judgment, that Client is in good standing. Products satisfying all the foregoing requirements may also be returned subject to Geeks On Tap's then applicable restocking fee.
9.4       Products. Products provided by Geeks On Tap that are determined to be defective, may be repaired or at the sole discretion of Geeks On Tap, may be returned to Geeks On Tap for assistance in processing a manufacturer's warranty, provided that the Product is covered by a manufacturer's warranty and the Client is determined, in Geeks on Tap sole judgment, to be in good standing.  All returned Products must be shipped by Client FOB destination and received by Geeks on Tap within seven (7) days of the date of shipment of the replacement Products. Notwithstanding the foregoing, Geeks on Tap makes no warranty or representations regarding the Products. All other returns of Products are subject to Geeks on Tap prior approval and applicable fees.
9.5        Service Warranty. Services provided by Geeks on Tap will be fit for the particular purpose for which the Client, expressly or by implication, makes known to Geeks on Tap. Further, if the Client, expressly or by implication, makes known to Geeks on Tap a result for which the Client wishes the Services to achieve, the services, and any product resulting from the services, will be of such a nature, and quality, state or condition, that they might reasonably be expected to achieve that result, provided that the Client did in fact rely upon the skill and judgment of Geeks on Tap in the provision of such Services, and that it was reasonable to do so.
9.6        In the event that the Services involve the delivery of third party Product, whether hardware, software, firmware, Geeks on Tap disclaims all warranty and other responsibilities with respect to such Product except to facilitate warranty claims.  Any rights of Client to warranties will be as described in the manufacturer's warranty accompanying such Product and Client will be required to assert any such rights directly against the applicable manufacturer.
9.7        Warranty Exclusive.  To the fullest extent allowed by law, the foregoing warranty is exclusive and in lieu of all other warranties, terms, or conditions, express or implied, including warranties, terms or conditions of merchantability, fitness for a particular purpose, and satisfactory quality.  Geeks On Tap's warranties run only to Client, and are not extended to any third parties. Geeks On Tap neither assumes nor authorises any other person to assume for it any other liability in connection with the performance of Services hereunder. Geeks On Tap shall not be responsible for loss or recovery of Client data.  It shall be the responsibility of Client to provide adequate backup of data.
9.8        Each party further warrants to the other that they will use due care and skill in complying with their obligations under this Agreement in the provision of Services.
10. Licences
10.1        All third party software is provided subject to the licence agreement that is provided as part of the Product package documentation.  Client agrees to be bound by the licence agreement once the package is opened, or the seal is broken, or upon delivery to Client by Geeks On Tap .
11. Limitation of Liability
11.1      Geeks On Tap's liabilities or obligations under or pursuant to this Agreement are expressly limited to the provision of the Services.  Notwithstanding any provision of this Agreement, except for direct damages resulting in personal injury or damage to tangible property caused by Geeks On Tap 's negligence or wilful misconduct while on Client's premises, Geeks On Tap 's liability to Client hereunder, if any, shall in no event exceed the total of the amounts paid to Geeks On Tap by Client relating to the service giving rise to the liability.
11.2       In no event, whether based in contract or tort (including negligence), shall Geeks On Tap be liable for any special, incidental, or consequential damages of any kind, or for loss of profits, loss of business or goodwill, loss of use or of data, or interruption of business arising out of or in connection with this Agreement or the sale, installation, use, performance, failure or interruption of Products, however caused, even if Geeks On Tap has been advised of the possibility of such loss.
11.3    Risk of loss of equipment will pass to Client upon delivery of ordered Product by Geeks on Tap to Client's representative at Geeks on Tap point of shipment, or on delivery by the carrier to Client's identified delivery place. Until the goods in your possession are paid for in full, you must insure the goods at your cost, naming Geeks on Tap as a loss payee, for full replacement cost against all risk.
12. General
12.1    Entire Agreement.  This Agreement together with proposal, SOW and quotation, is intended as the complete statement of the terms of the agreement between the parties.
12.2      Force Majeure. If either party is prevented from carrying out any of its obligations under this Agreement due to any circumstance beyond its reasonable control including, without limitation, act of government or God, interruption of power supplies, interference by a third party, industrial disputes, earthquake or other natural disaster, the party affected shall be excused from performance of such obligation for the duration and to the extent of such preventing circumstance.
12.3      Notices. Any notice regarding non-performance, breach, termination, or renewal required or permitted to be given under this Agreement shall be given in writing and shall be hand delivered or deposited, postage prepaid, registered or certified mail, or sent by express delivery, addressed to Client or Geeks On Tap.
12.4      Waiver. A waiver of any default hereunder or of any of the terms and conditions of this Agreement shall not be deemed to be a continuing waiver or a waiver of any other default or of any other term or condition.
12.5      Severability. If any court of competent jurisdiction determines that any provision of this Agreement is invalid, illegal, or unenforceable, the validity, legality, and enforceability of any of the remaining provisions shall not in any way be affected or impaired thereby.  The offending provision or part shall be interpreted to whatever extent possible to give effect to its stated intent.
12.6  Assignment.  Assignment of this Agreement shall be prohibited without the express written consent of the other party, which will not be unreasonably withheld; except that Geeks On Tap shall be entitled to assign its interest in this Agreement in connection with a merger or other business combination in which Geeks On Tap  is not the surviving entity. Any attempted assignment in violation of this provision shall be null and void.
12.7  Governing Law. The validity, performance, construction, and interpretation of this Agreement, and all disputes hereunder shall be governed by the laws of New South Wales and courts of the state of New South Wales and shall have exclusive jurisdiction over all matters.
12.8   Dispute Resolution. The parties will attempt in good faith to promptly resolve any dispute, controversy, or claim ("Dispute") arising out of or relating to this Agreement through negotiations between the parties before resorting to other remedies available to them.  Any such Dispute shall be referred to appropriate senior executives (e.g. director level) of each party who shall have the authority to resolve the matter. Discussions and correspondence relating to trying to resolve such Dispute shall be treated as confidential information developed for the purpose of settlement and shall be exempt from discovery or production and shall not be admissible in subsequent mediation, other alternate dispute resolution ("ADR"), or litigation.  If the senior executives are unable to resolve the Dispute within thirty (30) days from the date of the written communication requesting referral to the executives, and either party wishes to pursue its rights relating to such Dispute, then the Dispute will be mediated by a mutually acceptable mediator appointed within thirty (30) days after written notice by one party to the other demanding non-binding mediation. Neither party may unreasonably withhold consent to the selection of a mediator or the location of the mediation.  Both parties will share the costs of the mediation equally, except that each party shall bear its own costs and expenses, including solicitor's fees, travel expenses, and preparation costs. The parties may also agree to replace mediation with some other form of non-binding or binding ADR. If the parties agree upon binding arbitration, the arbitrator(s) shall be prohibited from awarding damages or remedies in excess of those allowed by the provisions of this Agreement. Any Dispute which the parties cannot resolve through mediation within two (2) months of the date of the initial demand for it by one of the parties may then be submitted to a court for resolution.
12.9  Legal Fees.  In any legal action to enforce, or arising out of a sale subject to, this Agreement, the prevailing party shall be awarded arbitration costs, court costs and reasonable solicitors fees incurred as a court or arbitrator shall determine.
12.10  Amendments. This Agreement shall not be deemed or construed to be modified, amended, rescinded, cancelled or waived, in whole or in part, except by a written amendment signed by authorised representatives of the parties.